---
Amplified Bible, Classic Edition
19 You shall not lend on interest to your brother—interest on money, on victuals, on anything that is lent for interest.
20 You may lend on interest to a foreigner, but to your brother you shall not lend on interest, that the Lord your God may bless you in all that you undertake in the land to which you go to possess it.
21 When you make a vow to the Lord your God, you shall not be slack in paying it, for the Lord your God will surely require it of you, and slackness would be sin in you.
Read full chapter
Amplified Bible, Classic Edition (AMPC)
Copyright © 1954, 1958, 1962, 1964, 1965, 1987 by The Lockman Foundation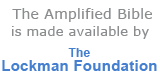 Bible Gateway Recommends
Everyday Life Bible: The Power Of God's Word For Everyday Living, Imitation Leather, pink
Retail: $79.99
Our Price: $53.99
Save: $26.00 (33%)
Amplified Topical Reference Bible, Bonded Leather, Black
Retail: $69.99
Our Price: $37.99
Save: $32.00 (46%)

Amplified Thinline Holy Bible--bonded leather, black (indexed)
Retail: $59.99
Our Price: $38.99
Save: $21.00 (35%)
Amplified Holy Bible, XL Edition--soft leather-look, brown
Retail: $49.99
Our Price: $31.99
Save: $18.00 (36%)
Classic Comparative Side-by-Side Bible (NIV, KJV, NASB, Amplified) , Bonded Leather
Retail: $89.99
Our Price: $57.99
Save: $32.00 (36%)

Amplified Holy Bible, softcover
Retail: $19.99
Our Price: $13.99
Save: $6.00 (30%)