---
Amplified Bible, Classic Edition
25 This day will I begin to put the dread and fear of you upon the peoples who are under the whole heavens, who shall hear the report of you and shall tremble and be in anguish because of you.
26 So I sent messengers from the wilderness of Kedemoth to Sihon king of Heshbon with words of peace, saying,
27 Let me pass through your land. I will go only by the road, turning aside neither to the right nor to the left.
Read full chapter
New International Version
25 This very day I will begin to put the terror(A) and fear(B) of you on all the nations under heaven. They will hear reports of you and will tremble(C) and be in anguish because of you."
26 From the Desert of Kedemoth(D) I sent messengers to Sihon(E) king of Heshbon offering peace(F) and saying, 27 "Let us pass through your country. We will stay on the main road; we will not turn aside to the right or to the left.(G)
Read full chapter
Amplified Bible, Classic Edition (AMPC)
Copyright © 1954, 1958, 1962, 1964, 1965, 1987 by The Lockman Foundation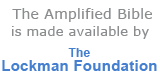 New International Version (NIV)
Holy Bible, New International Version®, NIV® Copyright ©1973, 1978, 1984, 2011 by Biblica, Inc.® Used by permission. All rights reserved worldwide.
NIV Reverse Interlinear Bible: English to Hebrew and English to Greek. Copyright © 2019 by Zondervan.