---
Amplified Bible, Classic Edition
2 You shall offer the Passover sacrifice to the Lord your God from the flock or the herd in the place where the Lord will choose to make His Name [and His Presence] dwell.
3 You shall eat no leavened bread with it; for seven days you shall eat it with unleavened bread, the bread of affliction—for you fled from the land of Egypt in haste—that all the days of your life you may [earnestly] remember the day when you came out of Egypt.
4 No leaven shall be seen with you in all your territory for seven days; nor shall any of the flesh which you sacrificed the first day at evening be left all night until the morning.
Read full chapter
Amplified Bible, Classic Edition (AMPC)
Copyright © 1954, 1958, 1962, 1964, 1965, 1987 by The Lockman Foundation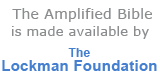 Bible Gateway Recommends
Amplified Bible, Battlefield Of The Mind Bible, Hardcover - Slightly Imperfect
Retail: $49.99
Our Price: $28.04
Save: $21.95 (44%)
Amplified Outreach Bible, Paperback, Case of 24
Retail: $167.76
Our Price: $79.49
Save: $88.27 (53%)
The New Everyday Life Bible: The Power of God's Word For Everyday Living
Retail: $39.99
Our Price: $27.99
Save: $12.00 (30%)
Amplified Study Bible, Large Print, Imitation Leather, Brown
Retail: $69.99
Our Price: $45.99
Save: $24.00 (34%)
Amplified Compact Holy Bible--soft leather-look, camel/burgundy
Retail: $34.99
Our Price: $22.99
Save: $12.00 (34%)
Amplified Topical Reference Bible, Bonded Leather, Black
Retail: $69.99
Our Price: $37.99
Save: $32.00 (46%)