---
Amplified Bible, Classic Edition
13 You shall observe the Feast of Tabernacles or Booths for seven days after you have gathered in from your threshing floor and wine vat.
14 You shall rejoice in your Feast, you, your son and daughter, your manservant and maidservant, the Levite, the transient and the stranger, the fatherless, and the widow who are within your towns.
15 For seven days you shall keep a solemn Feast to the Lord your God in the place which the Lord chooses; because the Lord your God will bless you in all your produce and in all the works of your hands, so that you will be altogether joyful.
Read full chapter
Amplified Bible, Classic Edition (AMPC)
Copyright © 1954, 1958, 1962, 1964, 1965, 1987 by The Lockman Foundation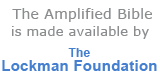 Bible Gateway Recommends
Amplified Compact Holy Bible--soft leather-look, camel/burgundy
Retail: $34.99
Our Price: $22.99
Save: $12.00 (34%)
Amplified Study Bible--soft leather-look, purple (indexed) - Slightly Imperfect
Retail: $79.99
Our Price: $45.04
Save: $34.95 (44%)
Amplified Outreach Bible, Paperback
Retail: $6.99
Our Price: $4.99
Save: $2.00 (29%)
KJV and Amplified Parallel Bible, Large Print, Bonded Leather, Black
Retail: $79.99
Our Price: $53.99
Save: $26.00 (33%)
KJV and Amplified Parallel Bible, Large Print, Hardcover
Retail: $49.99
Our Price: $31.99
Save: $18.00 (36%)
Classic Comparative Side-by-Side Bible (NIV, KJV, NASB, Amplified)
Retail: $54.99
Our Price: $35.99
Save: $19.00 (35%)