---
Amplified Bible, Classic Edition
10 Now the queen [mother], overhearing the exciting words of the king and his lords, came into the banquet house. The queen [mother] said, O king, live forever! Do not be alarmed at your thoughts or let your cheerful expression and the color of your face be changed.
11 There is a man in your kingdom in whom is the Spirit of the holy God [or gods], and in the days of your father light and understanding and wisdom like the wisdom of the gods were found in him; and King Nebuchadnezzar, your father—the king, I say, your father—appointed him master of the magicians, enchanters or soothsayers, Chaldeans, and astrologers,
12 Because an excellent spirit, knowledge, and understanding to interpret dreams, clarify riddles, and solve knotty problems were found in this same Daniel, whom the king named Belteshazzar. Now let Daniel be called, and he will show the interpretation.
Read full chapter
Amplified Bible, Classic Edition (AMPC)
Copyright © 1954, 1958, 1962, 1964, 1965, 1987 by The Lockman Foundation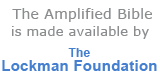 Bible Gateway Recommends
NKJV Amplified Parallel Large-Print Bible Flexisoft, Blue/Brown
Retail: $79.95
Our Price: $46.49
Save: $33.46 (42%)
Classic Comparative Side-by-Side Bible (NIV, KJV, NASB, Amplified) , Bonded Leather
Retail: $89.99
Our Price: $52.99
Save: $37.00 (41%)
Amplified Compact Holy Bible, hardcover
Retail: $14.99
Our Price: $8.99
Save: $6.00 (40%)
Everyday Life Bible: The Power Of God's Word For Everyday Living, Imitation Leather, pewter
Retail: $79.99
Our Price: $53.99
Save: $26.00 (33%)

Everyday Life Bible: The Power Of God's Word For Everyday Living, Imitation Leather, pink
Retail: $79.99
Our Price: $53.99
Save: $26.00 (33%)

Everyday Life Bible: The Power of God's Word for Everyday Living--soft leather-look, blush
Retail: $79.99
Our Price: $54.99
Save: $25.00 (31%)