---
Contemporary English Version
39 With the help of this foreign god, he will capture the strongest fortresses. Everyone who worships this god will be put in a position of power and rewarded with wealth and land.
Part Three: The Time of the End
40 At the time of the end, the king of the south will attack the kingdom of the north. But its king will rush out like a storm with war chariots, cavalry, and many ships. Indeed, his forces will flood one country after another, 41 and when they reach the holy land,[a] tens of thousands will be killed. But the countries of Edom and Moab and the ruler of Ammon[b] will escape.
Read full chapter
New International Version
39 He will attack the mightiest fortresses with the help of a foreign god and will greatly honor those who acknowledge him. He will make them rulers over many people and will distribute the land at a price.[a]
40 "At the time of the end the king of the South(A) will engage him in battle, and the king of the North will storm(B) out against him with chariots and cavalry and a great fleet of ships. He will invade many countries and sweep through them like a flood.(C) 41 He will also invade the Beautiful Land.(D) Many countries will fall, but Edom,(E) Moab(F) and the leaders of Ammon will be delivered from his hand.
Read full chapter
Contemporary English Version (CEV)
Copyright © 1995 by American Bible Society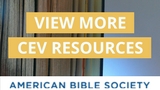 New International Version (NIV)
Holy Bible, New International Version®, NIV® Copyright ©1973, 1978, 1984, 2011 by Biblica, Inc.® Used by permission. All rights reserved worldwide.
NIV Reverse Interlinear Bible: English to Hebrew and English to Greek. Copyright © 2019 by Zondervan.