---
4 2 He returneth to general exhortations, 3 touching prayer and gracious speech, 7and so endeth with greetings and commendations.
1 Ye masters, do unto your servants, that which is just and equal, knowing that ye also have a master in heaven.
2 (A)[a][b]Continue in prayer, and watch in the same with thanksgiving,
Read full chapter
Footnotes
Colossians 4:2 He addeth certain general exhortations and at length endeth his Epistle with divers familiar and godly salutations.
Colossians 4:2 Prayers must be continual and earnest.
New International Version
4 Masters, provide your slaves with what is right and fair,(A) because you know that you also have a Master in heaven.
Further Instructions
2 Devote yourselves to prayer,(B) being watchful and thankful.
Read full chapter
1599 Geneva Bible (GNV)
Geneva Bible, 1599 Edition. Published by Tolle Lege Press. All rights reserved. No part of this publication may be reproduced or transmitted in any form or by any means, electronic or mechanical, without written permission from the publisher, except in the case of brief quotations in articles, reviews, and broadcasts.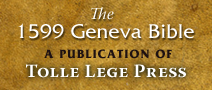 New International Version (NIV)
Holy Bible, New International Version®, NIV® Copyright ©1973, 1978, 1984, 2011 by Biblica, Inc.® Used by permission. All rights reserved worldwide.
NIV Reverse Interlinear Bible: English to Hebrew and English to Greek. Copyright © 2019 by Zondervan.