---
Contemporary English Version
9 And stop lying to each other. You have given up your old way of life with its habits.
10 Each of you is now a new person. You are becoming more and more like your Creator, and you will understand him better. 11 It doesn't matter if you are a Greek or a Jew, or if you are circumcised or not. You may even be a barbarian or a Scythian,[a] and you may be a slave or a free person. Yet Christ is all that matters, and he lives in all of us.
Read full chapter
Footnotes
3.11 a barbarian or a Scythian: Barbarians were people who could not speak Greek and would be in the lower class of society. Scythians were people who were known for their cruelty.
New International Version
9 Do not lie to each other,(A) since you have taken off your old self(B) with its practices 10 and have put on the new self,(C) which is being renewed(D) in knowledge in the image of its Creator.(E) 11 Here there is no Gentile or Jew,(F) circumcised or uncircumcised,(G) barbarian, Scythian, slave or free,(H) but Christ is all,(I) and is in all.
Read full chapter
Contemporary English Version (CEV)
Copyright © 1995 by American Bible Society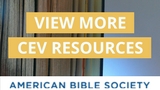 New International Version (NIV)
Holy Bible, New International Version®, NIV® Copyright ©1973, 1978, 1984, 2011 by Biblica, Inc.® Used by permission. All rights reserved worldwide.
NIV Reverse Interlinear Bible: English to Hebrew and English to Greek. Copyright © 2019 by Zondervan.