---
Mounce Reverse-Interlinear New Testament
10 There was a tis man anēr · de in en Caesarea Kaisareia named onoma Cornelius Kornēlios, a centurion hekatontarchēs from ek the cohort speira that ho was called kaleō the Italian Italikos, 2 a devout eusebēs man and kai one who feared phobeomai · ho God theos with syn all pas · ho his autos household oikos, gave poieō alms eleēmosynē generously polys to the ho people laos, and kai prayed deomai to ho God theos continually dia pas. 3 He saw in en a vision horama clearly phanerōs, about hōsei peri the ninth enatos hour hōra of the ho day hēmera, an angel angelos of ho God theos coming eiserchomai to pros him autos and kai saying legō to him autos, " Cornelius Kornēlios." 4 · de Staring atenizō at him autos and kai becoming ginomai afraid emphobos, he ho said legō, " What tis is it eimi, Lord kyrios?" And de he said legō to him autos, · ho " Your sy prayers proseuchē and kai · ho your sy acts eleēmosynē of charity have gone anabainō up as eis a memorial mnēmosynon before emprosthen · ho God theos. 5 And kai now nyn send pempō men anēr to eis Joppa Ioppē and kai send metapempō for a man tis named Simon Simōn who hos is called epikaleō Peter Petros. 6 He houtos is lodging xenizō with para a man tis named Simon Simōn, a tanner byrseus, whose hos house oikia is eimi by para the sea thalassa." 7 When hōs · de the ho angel angelos who ho spoke laleō to him autos had gone away aperchomai, he called phōneō two dyo of his ho servants oiketēs and kai a devout eusebēs soldier stratiōtēs from among ho those who waited proskartereō on him autos, 8 and kai when he had related exēgeomai everything hapas to them autos, he sent apostellō them autos to eis · ho Joppa Ioppē.
9 The ho · de following epaurion day , as they ekeinos were on their journey hodoiporeō and kai approaching engizō the ho city polis, Peter Petros went up anabainō on epi the ho housetop dōma to pray proseuchomai about peri the sixth hektos hour hōra. 10 And de he became ginomai hungry prospeinos and kai wanted thelō to eat geuomai, but de while they autos were preparing paraskeuazō it, he autos fell ginomai into epi a trance ekstasis, 11 and kai he saw theōreō the ho heavens ouranos opened anoigō and kai a certain tis object skeuos descending katabainō, like hōs a great megas sheet othonē, being let down kathiēmi by its four tessares corners archē upon epi the ho earth gē. 12 In en it hos were hyparchō all pas kinds of · ho four-footed tetrapous animals , and kai reptiles herpeton of the ho earth gē, and kai birds peteinon of the ho air ouranos. 13 Then kai a voice phōnē came ginomai to pros him autos, " Get anistēmi up , Peter Petros; slaughter thuō and kai eat esthiō!" 14 · ho But de Peter Petros said legō, " By no means mēdamōs, Lord kyrios; for hoti I have never oudepote eaten esthiō anything pas common koinos or kai unclean akathartos." 15 And kai a voice phōnē came again palin, a second time ek, to pros him autos, " What hos · ho God theos has made clean katharizō, you sy must not mē consider common koinoō." 16 This houtos · de happened ginomai three times epi, and kai immediately the ho object skeuos was taken analambanō up to eis · ho heaven ouranos.
17 Now de while hōs Peter Petros was perplexed diaporeō within en himself heautou · ho as to what tis the ho vision horama that hos he had seen might an mean eimi, behold idou, the ho men anēr · ho sent apostellō by hypo · ho Cornelius Kornēlios, having made inquiry dierōtaō for the ho house oikia of ho Simon Simōn, stood ephistēmi at epi the ho gate pylōn 18 and kai called phōneō out to ask pynthanomai whether ei Simon Simōn who ho was called epikaleō Peter Petros was staying xenizō there enthade. 19 · ho · de As Peter Petros was thinking dienthumeomai about peri the ho vision horama, the ho Spirit pneuma said legō to him autos, " Behold idou, three treis men anēr are looking zēteō for you sy. 20 But alla get anistēmi up , go down katabainō, and kai accompany poreuō syn them autos without mēdeis hesitation diakrinō, because hoti I egō have sent apostellō them autos." 21 And de Peter Petros went down katabainō to pros the ho men anēr and said legō, " Behold idou, I egō am eimi the one hos you are looking zēteō for . What tis is the ho reason aitia for dia which hos you have come pareimi?" 22 And de they ho said legō, " Cornelius Kornēlios, a centurion hekatontarchēs, an upright dikaios man anēr and kai one who fears phobeomai · ho God theos, who is well spoken martyreō of by hypo the ho whole holos nation ethnos of the ho Jews Ioudaios, was directed chrēmatizō by hypo a holy hagios angel angelos to send metapempō for you sy to come to eis · ho his autos house oikos and kai to hear akouō words rhēma from para you sy." 23 So oun he invited eiskaleomai them autos in and gave xenizō them lodging . On the ho · de next epaurion day he got anistēmi up and set exerchomai out with syn them autos, and kai some tis of the ho brothers adelphos · ho from apo Joppa Ioppē went synerchomai with him autos. 24 And de on the ho following epaurion day they entered eiserchomai · ho Caesarea Kaisareia. · ho · de Cornelius Kornēlios was eimi expecting prosdokaō them autos and had called synkaleō together · ho his autos relatives syngenēs and kai · ho close anankaios friends philos. 25 When hōs · de Peter Petros entered eiserchomai, · ho Cornelius Kornēlios met synantaō him autos · ho and fell piptō at epi his ho feet pous and worshiped proskyneō him. 26 · ho But de Peter Petros made him autos get egeirō up , saying legō, " Stand anistēmi up ; I egō myself autos am eimi also kai just a man anthrōpos." 27 And kai as he talked synomileō with him autos, he went eiserchomai inside and kai found heuriskō many people polys gathered synerchomai. 28 And te he said phēmi to pros them autos, " You yourselves hymeis know epistamai how hōs unlawful athemitos it is eimi for a man anēr who is a Jew Ioudaios to associate kollaō with or ē to visit proserchomai anyone of another allophylos race , but kagō God theos showed deiknymi me · ho that I should call legō no mēdeis person anthrōpos common koinos or ē unclean akathartos. 29 Therefore dio, · kai when I was summoned metapempō, I came erchomai without raising any objection anantirrētōs. So oun I ask pynthanomai for what tis reason logos did you send metapempō for me egō?" 30 And kai · ho Cornelius Kornēlios said phēmi, " Four tetartos days hēmera ago apo at mechri this houtos · ho hour hōra, I was eimi praying proseuchomai at the ho ninth enatos hour in en · ho my egō house oikos, and kai behold idou, a man anēr stood histēmi before enōpion me egō in en bright lampros clothing esthēs 31 and kai he said phēmi, ' Cornelius Kornēlios, your sy prayer proseuchē has been heard eisakouō · ho and kai · ho your sy acts eleēmosynē of charity have been remembered mimnēskomai before enōpion · ho God theos. 32 Send pempō therefore oun to eis Joppa Ioppē and kai invite metakaleō Simon Simōn who hos is called epikaleō Peter Petros. He houtos is staying xenizō in en the house oikia of Simon Simōn, a tanner byrseus, by para the sea thalassa.' 33 So oun immediately exautēs I sent pempō for pros you sy, and te you sy did poieō well kalōs by coming paraginomai. Now nyn therefore oun we hēmeis are pareimi all pas here pareimi in the presence enōpion of ho God theos to hear akouō all pas that ho has been commanded prostassō you sy by hypo the ho Lord kyrios."
34 So de Peter Petros opened anoigō his ho mouth stoma and said legō: " Truly epi alētheia I understand katalambanō that hoti God theos is eimi not ou one who shows partiality prosōpolēmptēs; · ho 35 but alla in en every pas nation ethnos · ho anyone who fears phobeomai him autos and kai does ergazomai what is right dikaiosynē is eimi acceptable dektos to him autos 36 As for the ho word logos that hos he sent apostellō to the ho sons hyios of Israel Israēl, preaching euangelizō good news of peace eirēnē through dia Jesus Iēsous Christ Christos ( he houtos is eimi Lord kyrios of all pas), 37 you yourselves hymeis know oida the account rhēma that ho spread ginomai throughout kata all holos · ho Judea Ioudaia, beginning archō from apo · ho Galilee Galilaia after meta the ho baptism baptisma that hos John Iōannēs proclaimed kēryssō, 38 Jesus Iēsous · ho of apo Nazareth Nazareth, how hōs God theos anointed chriō him autos · ho with the Holy hagios Spirit pneuma and kai with power dynamis; who hos went dierchomai about doing euergeteō good and kai healing iaomai all pas who ho were oppressed katadynasteuō by hypo the ho devil diabolos, because hoti · ho God theos was eimi with meta him autos. 39 And kai we hēmeis are witnesses martys of all pas that hos he did poieō both te in en the ho country chōra of the ho Jews Ioudaios and kai in en Jerusalem Ierousalēm, whom hos also kai they put to death anaireō by hanging kremannymi him on epi a tree xylon. 40 This houtos man · ho God theos raised egeirō up on en the ho third tritos day hēmera and kai allowed didōmi him autos to be ginomai seen emphanēs, 41 not ou to all pas the ho people laos but alla to witnesses martys who ho had been previously chosen procheirotoneō by hypo · ho God theos, to us hēmeis, who hostis ate synesthiō and kai drank sympinō with him autos after meta he autos · ho rose anistēmi from ek the dead nekros. 42 And kai he commanded parangellō us hēmeis to preach kēryssō to the ho people laos and kai to testify diamartyromai that hoti this houtos is eimi he ho who is appointed horizō by hypo · ho God theos to be judge kritēs of the living zaō and kai the dead nekros. 43 To him houtos all pas the ho prophets prophētēs bear martyreō witness , that everyone pas who ho believes pisteuō in eis him autos receives lambanō forgiveness aphesis of sins hamartia through dia · ho his autos name onoma."
44 While Peter Petros was still eti speaking laleō · ho · ho these houtos words rhēma, the ho Holy hagios Spirit pneuma came epipiptō · ho on epi all pas those ho who were listening akouō to the ho message logos. 45 And kai the ho believers pistos, from ek among the circumcised peritomē, who hosos came synerchomai with · ho Peter Petros, were amazed existēmi that hoti even kai on epi the ho Gentiles ethnos was the ho gift dōrea of the ho Holy hagios Spirit pneuma poured ekchunnomai out . 46 For gar they were hearing akouō them autos speaking laleō with tongues glōssa and kai magnifying megalynō · ho God theos. Then tote Peter Petros declared apokrinomai, 47 " Surely no mēti one tis is able dynamai to withhold kōlyō the ho water hydōr so that ho these people houtos cannot mē be baptized baptizō who hostis received lambanō the ho Holy hagios Spirit pneuma · ho just kai as hōs we hēmeis did, can he ? 48 And de he ordered prostassō them autos to be baptized baptizō in en the ho name onoma of Jesus Iēsous Christ Christos. Then tote they asked erōtaō him autos to remain epimenō for some tis days hēmera.
New International Version
Cornelius Calls for Peter
10 At Caesarea(A) there was a man named Cornelius, a centurion in what was known as the Italian Regiment. 2 He and all his family were devout and God-fearing;(B) he gave generously to those in need and prayed to God regularly. 3 One day at about three in the afternoon(C) he had a vision.(D) He distinctly saw an angel(E) of God, who came to him and said, "Cornelius!"
4 Cornelius stared at him in fear. "What is it, Lord?" he asked.
The angel answered, "Your prayers and gifts to the poor have come up as a memorial offering(F) before God.(G) 5 Now send men to Joppa(H) to bring back a man named Simon who is called Peter. 6 He is staying with Simon the tanner,(I) whose house is by the sea."
7 When the angel who spoke to him had gone, Cornelius called two of his servants and a devout soldier who was one of his attendants. 8 He told them everything that had happened and sent them to Joppa.(J)
Peter's Vision(K)
9 About noon the following day as they were on their journey and approaching the city, Peter went up on the roof(L) to pray. 10 He became hungry and wanted something to eat, and while the meal was being prepared, he fell into a trance.(M) 11 He saw heaven opened(N) and something like a large sheet being let down to earth by its four corners. 12 It contained all kinds of four-footed animals, as well as reptiles and birds. 13 Then a voice told him, "Get up, Peter. Kill and eat."
14 "Surely not, Lord!"(O) Peter replied. "I have never eaten anything impure or unclean."(P)
15 The voice spoke to him a second time, "Do not call anything impure that God has made clean."(Q)
16 This happened three times, and immediately the sheet was taken back to heaven.
17 While Peter was wondering about the meaning of the vision,(R) the men sent by Cornelius(S) found out where Simon's house was and stopped at the gate. 18 They called out, asking if Simon who was known as Peter was staying there.
19 While Peter was still thinking about the vision,(T) the Spirit said(U) to him, "Simon, three[a] men are looking for you. 20 So get up and go downstairs. Do not hesitate to go with them, for I have sent them."(V)
21 Peter went down and said to the men, "I'm the one you're looking for. Why have you come?"
22 The men replied, "We have come from Cornelius the centurion. He is a righteous and God-fearing man,(W) who is respected by all the Jewish people. A holy angel told him to ask you to come to his house so that he could hear what you have to say."(X) 23 Then Peter invited the men into the house to be his guests.
Peter at Cornelius's House
The next day Peter started out with them, and some of the believers(Y) from Joppa went along.(Z) 24 The following day he arrived in Caesarea.(AA) Cornelius was expecting them and had called together his relatives and close friends. 25 As Peter entered the house, Cornelius met him and fell at his feet in reverence. 26 But Peter made him get up. "Stand up," he said, "I am only a man myself."(AB)
27 While talking with him, Peter went inside and found a large gathering of people.(AC) 28 He said to them: "You are well aware that it is against our law for a Jew to associate with or visit a Gentile.(AD) But God has shown me that I should not call anyone impure or unclean.(AE) 29 So when I was sent for, I came without raising any objection. May I ask why you sent for me?"
30 Cornelius answered: "Three days ago I was in my house praying at this hour, at three in the afternoon. Suddenly a man in shining clothes(AF) stood before me 31 and said, 'Cornelius, God has heard your prayer and remembered your gifts to the poor. 32 Send to Joppa for Simon who is called Peter. He is a guest in the home of Simon the tanner, who lives by the sea.' 33 So I sent for you immediately, and it was good of you to come. Now we are all here in the presence of God to listen to everything the Lord has commanded you to tell us."
34 Then Peter began to speak: "I now realize how true it is that God does not show favoritism(AG) 35 but accepts from every nation the one who fears him and does what is right.(AH) 36 You know the message(AI) God sent to the people of Israel, announcing the good news(AJ) of peace(AK) through Jesus Christ, who is Lord of all.(AL) 37 You know what has happened throughout the province of Judea, beginning in Galilee after the baptism that John preached— 38 how God anointed(AM) Jesus of Nazareth with the Holy Spirit and power, and how he went around doing good and healing(AN) all who were under the power of the devil, because God was with him.(AO)
39 "We are witnesses(AP) of everything he did in the country of the Jews and in Jerusalem. They killed him by hanging him on a cross,(AQ) 40 but God raised him from the dead(AR) on the third day and caused him to be seen. 41 He was not seen by all the people,(AS) but by witnesses whom God had already chosen—by us who ate(AT) and drank with him after he rose from the dead. 42 He commanded us to preach to the people(AU) and to testify that he is the one whom God appointed as judge of the living and the dead.(AV) 43 All the prophets testify about him(AW) that everyone(AX) who believes(AY) in him receives forgiveness of sins through his name."(AZ)
44 While Peter was still speaking these words, the Holy Spirit came on(BA) all who heard the message. 45 The circumcised believers who had come with Peter(BB) were astonished that the gift of the Holy Spirit had been poured out(BC) even on Gentiles.(BD) 46 For they heard them speaking in tongues[b](BE) and praising God.
Then Peter said, 47 "Surely no one can stand in the way of their being baptized with water.(BF) They have received the Holy Spirit just as we have."(BG) 48 So he ordered that they be baptized in the name of Jesus Christ.(BH) Then they asked Peter to stay with them for a few days.
Footnotes
Acts 10:19 One early manuscript two; other manuscripts do not have the number.
Acts 10:46 Or other languages
Mounce Reverse-Interlinear New Testament (MOUNCE)
The Mounce Reverse-Interlinear™ New Testament (MOUNCE) Copyright © 2011 by William D. Mounce. Used by permission. All rights reserved worldwide.
"Reverse-Interlinear" is a trademark of William D. Mounce.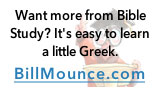 New International Version (NIV)
Holy Bible, New International Version®, NIV® Copyright ©1973, 1978, 1984, 2011 by Biblica, Inc.® Used by permission. All rights reserved worldwide.
NIV Reverse Interlinear Bible: English to Hebrew and English to Greek. Copyright © 2019 by Zondervan.