---
Amplified Bible, Classic Edition
8 Now Stephen, full of grace (divine blessing and favor) and power (strength and ability) worked great wonders and signs (miracles) among the people.
9 However, some of those who belonged to the synagogue of the Freedmen (freed Jewish slaves), as it was called, and [of the synagogues] of the Cyrenians and of the Alexandrians and of those from Cilicia and [the province of] Asia, arose [and undertook] to debate and dispute with Stephen.
10 But they were not able to resist the intelligence and the wisdom and [the inspiration of] the Spirit with which and by Whom he spoke.
Read full chapter
Amplified Bible, Classic Edition (AMPC)
Copyright © 1954, 1958, 1962, 1964, 1965, 1987 by The Lockman Foundation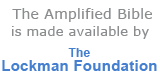 Bible Gateway Recommends
Amplified Compact Holy Bible--soft leather-look, camel/burgundy
Retail: $34.99
Our Price: $22.99
Save: $12.00 (34%)
Classic Comparative Side-by-Side Bible (NIV, KJV, NASB, Amplified)
Retail: $54.99
Our Price: $35.99
Save: $19.00 (35%)

Classic Comparative Side-by-Side Bible (NIV, KJV, NASB, Amplified) , Bonded Leather
Retail: $89.99
Our Price: $57.99
Save: $32.00 (36%)

Amplified Topical Reference Bible, Bonded Leather, Black
Retail: $69.99
Our Price: $32.99
Save: $37.00 (53%)

Amplified Reading Bible, Imitation Leather, Brown
Retail: $49.99
Our Price: $31.99
Save: $18.00 (36%)
Battlefield of the Mind New Testament--soft leather-look, coral
Retail: $24.99
Our Price: $16.99
Save: $8.00 (32%)