---
Contemporary English Version
23 After staying there for a while, he left and visited several places in Galatia and Phrygia. He helped the followers there to become stronger in their faith.
Apollos in Ephesus
24 A Jewish man named Apollos came to Ephesus. Apollos had been born in the city of Alexandria. He was a very good speaker and knew a lot about the Scriptures. 25 He also knew much about the Lord's Way,[a] and he spoke about it with great excitement. What he taught about Jesus was right, but all he knew was John's message about baptism.
Read full chapter
Footnotes
18.25 the Lord's Way: See the note at 9.2.
New International Version
23 After spending some time in Antioch, Paul set out from there and traveled from place to place throughout the region of Galatia(A) and Phrygia,(B) strengthening all the disciples.(C)
24 Meanwhile a Jew named Apollos,(D) a native of Alexandria, came to Ephesus.(E) He was a learned man, with a thorough knowledge of the Scriptures. 25 He had been instructed in the way of the Lord, and he spoke with great fervor[a](F) and taught about Jesus accurately, though he knew only the baptism of John.(G)
Read full chapter
Contemporary English Version (CEV)
Copyright © 1995 by American Bible Society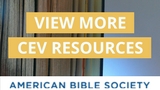 New International Version (NIV)
Holy Bible, New International Version®, NIV® Copyright ©1973, 1978, 1984, 2011 by Biblica, Inc.® Used by permission. All rights reserved worldwide.
NIV Reverse Interlinear Bible: English to Hebrew and English to Greek. Copyright © 2019 by Zondervan.