---
Amplified Bible, Classic Edition
3 Explaining [them] and [quoting passages] setting forth and proving that it was necessary for the Christ to suffer and to rise from the dead, and saying, This Jesus, Whom I proclaim to you, is the Christ (the Messiah).
4 And some of them [accordingly] were induced to believe and associated themselves with Paul and Silas, as did a great number of the devout Greeks and not a few of the leading women.
5 But the unbelieving Jews were aroused to jealousy, and, getting hold of some wicked men (ruffians and rascals) and loungers in the marketplace, they gathered together a mob, set the town in an uproar, and attacked the house of Jason, seeking to bring [Paul and Silas] out to the people.
Read full chapter
Amplified Bible, Classic Edition (AMPC)
Copyright © 1954, 1958, 1962, 1964, 1965, 1987 by The Lockman Foundation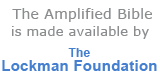 Bible Gateway Recommends
KJV and Amplified Parallel Bible, Large Print, Leathersoft, Camel/rich red
Retail: $79.99
Our Price: $46.79
Save: $33.20 (42%)
Amplified Outreach Bible, Paperback, Case of 24
Retail: $167.76
Our Price: $79.49
Save: $88.27 (53%)
Amplified Bible - eBook
Our Price: $7.99
Amplified Study Bible, Large Print, Imitation Leather, Brown
Retail: $69.99
Our Price: $41.99
Save: $28.00 (40%)
Amplified Study Bible, Hardcover
Retail: $44.99
Our Price: $24.99
Save: $20.00 (44%)
Amplified Compact Holy Bible--soft leather-look, camel/burgundy
Retail: $34.99
Our Price: $20.99
Save: $14.00 (40%)