---
Disciples' Literal New Testament
23 And having laid many blows on them, they threw them into prison, having commanded the jailer to keep them securely— 24 who, having received such a command, threw them into the inner prison and secured their feet to the wood[a].
After an Earthquake Opens The Jail, The Jailer Believes And Is Baptized
25 And about midnight Paul and Silas were singing-praise-to God while praying. And the prisoners were listening-to[b] them.
Read full chapter
Footnotes
Acts 16:24 That is, the beam, log, or post, with chains. Or, in the stocks.
Acts 16:25 Or, overhearing.
New International Version
23 After they had been severely flogged, they were thrown into prison, and the jailer(A) was commanded to guard them carefully. 24 When he received these orders, he put them in the inner cell and fastened their feet in the stocks.(B)
25 About midnight(C) Paul and Silas(D) were praying and singing hymns(E) to God, and the other prisoners were listening to them.
Read full chapter
Disciples' Literal New Testament (DLNT)
Disciples' Literal New Testament: Serving Modern Disciples by More Fully Reflecting the Writing Style of the Ancient Disciples, Copyright © 2011 Michael J. Magill. All Rights Reserved. Published by Reyma Publishing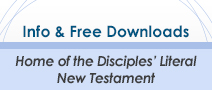 New International Version (NIV)
Holy Bible, New International Version®, NIV® Copyright ©1973, 1978, 1984, 2011 by Biblica, Inc.® Used by permission. All rights reserved worldwide.
NIV Reverse Interlinear Bible: English to Hebrew and English to Greek. Copyright © 2019 by Zondervan.