---
Amplified Bible, Classic Edition
3 Then after fasting and praying, they put their hands on them and sent them away.
4 So then, being sent out by the Holy Spirit, they went down to Seleucia, and from [that port] they sailed away to Cyprus.
5 When they arrived at Salamis, they preached the Word of God [concerning the attainment through Christ of salvation in the kingdom of God] in the synagogues of the Jews. And they had John [Mark] as an attendant to assist them.
Read full chapter
Amplified Bible, Classic Edition (AMPC)
Copyright © 1954, 1958, 1962, 1964, 1965, 1987 by The Lockman Foundation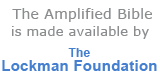 Bible Gateway Recommends
Amplified Thinline Holy Bible--bonded leather, burgundy
Retail: $49.99
Our Price: $31.99
Save: $18.00 (36%)
KJV and Amplified Parallel Bible, Large Print, Bonded Leather, Black
Retail: $79.99
Our Price: $53.99
Save: $26.00 (33%)
KJV and Amplified Parallel Bible, Large Print, Leathersoft, Camel/rich red
Retail: $79.99
Our Price: $52.99
Save: $27.00 (34%)
Amplified Large-Print Bible, hardcover
Retail: $34.99
Our Price: $22.99
Save: $12.00 (34%)
Everyday Life Bible: The Power Of God's Word For Everyday Living, Imitation Leather, pink
Retail: $79.99
Our Price: $53.99
Save: $26.00 (33%)