---
The Fall of Jerusalem
17 So the Lord brought the king of Babylon against them. The Babylonians[a] killed Judah's young men, even chasing after them into the Temple. They had no pity on the people, killing both young men and young women, the old and the infirm. God handed all of them over to Nebuchadnezzar. 18 The king took home to Babylon all the articles, large and small, used in the Temple of God, and the treasures from both the Lord's Temple and from the palace of the king and his officials. 19 Then his army burned the Temple of God, tore down the walls of Jerusalem, burned all the palaces, and completely destroyed everything of value.[b] 20 The few who survived were taken as exiles to Babylon, and they became servants to the king and his sons until the kingdom of Persia came to power.
21 So the message of the Lord spoken through Jeremiah was fulfilled. The land finally enjoyed its Sabbath rest, lying desolate until the seventy years were fulfilled, just as the prophet had said.
Read full chapter
New Living Translation (NLT)
Holy Bible, New Living Translation, copyright © 1996, 2004, 2015 by Tyndale House Foundation. Used by permission of Tyndale House Publishers, Inc., Carol Stream, Illinois 60188. All rights reserved.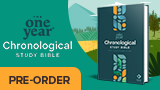 Bible Gateway Recommends
NLT Compact Giant Print Bible, Filament Enabled Edition (Red Letter, LeatherLike, Rose Metallic Peony)
Retail: $34.99
Our Price: $23.99
Save: $11.00 (31%)
My First Hands-On Bible
Retail: $16.99
Our Price: $13.99
Save: $3.00 (18%)

NLT Life Application Study Bible, Third Edition--soft leather-look, brown/tan (indexed) (red letter)
Retail: $84.99
Our Price: $62.99
Save: $22.00 (26%)

NLT Life Application Large-Print Study Bible, Third Edition--soft leather-look, black/onyx (indexed)
Retail: $94.99
Our Price: $64.99
Save: $30.00 (32%)
NLT Life Application Large-Print Study Bible, Third Edition--soft leather-look, teal
Retail: $84.99
Our Price: $48.99
Save: $36.00 (42%)
NLT Girls Life Application Study Bible--soft leather-look, teal/pink with flowers
Retail: $49.99
Our Price: $32.49
Save: $17.50 (35%)