---
Amplified Bible, Classic Edition
27 And when Abner returned to Hebron, Joab took him aside to the center of the gate to speak to him privately, and there he smote Abner in the abdomen, so that he died to avenge the blood of Asahel, Joab's brother.
28 When David heard of it, he said, I and my kingdom are guiltless before the Lord forever of the blood of Abner son of Ner.
29 Let it fall on the head of Joab and on all his father's house; and let the house of Joab never be without one who has a discharge or is a leper or walks with a crutch or is a distaff holder [unfit for war] or who falls by the sword or lacks food!
Read full chapter
Amplified Bible, Classic Edition (AMPC)
Copyright © 1954, 1958, 1962, 1964, 1965, 1987 by The Lockman Foundation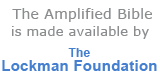 Bible Gateway Recommends
Battlefield of the Mind Bible: Renew Your Mind Through the Power of God's Word, Imitation Leather, brown
Retail: $79.99
Our Price: $53.99
Save: $26.00 (33%)
Amplified Bible, Large Print leather-look, brown/dark brown- index
Retail: $79.99
Our Price: $52.99
Save: $27.00 (34%)
Amplified Holy Bible, hardcover
Retail: $29.99
Our Price: $19.99
Save: $10.00 (33%)

Amplified Holy Bible--bonded leather, burgundy (indexed)
Retail: $59.99
Our Price: $38.99
Save: $21.00 (35%)

Amplified Holy Bible, softcover
Retail: $19.99
Our Price: $13.99
Save: $6.00 (30%)

Classic Comparative Side-by-Side Bible (NIV, KJV, NASB, Amplified) - Slightly Imperfect
Retail: $54.99
Our Price: $30.59
Save: $24.40 (44%)