---
Amplified Bible, Classic Edition
26 When Joab came from seeing David, he sent messengers after Abner, and they brought him back from the well of Sirah; but David did not know it.
27 And when Abner returned to Hebron, Joab took him aside to the center of the gate to speak to him privately, and there he smote Abner in the abdomen, so that he died to avenge the blood of Asahel, Joab's brother.
28 When David heard of it, he said, I and my kingdom are guiltless before the Lord forever of the blood of Abner son of Ner.
Read full chapter
Amplified Bible, Classic Edition (AMPC)
Copyright © 1954, 1958, 1962, 1964, 1965, 1987 by The Lockman Foundation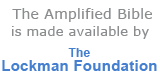 Bible Gateway Recommends
KJV and Amplified Parallel Bible, Large Print, Bonded Leather, Black
Retail: $79.99
Our Price: $47.99
Save: $32.00 (40%)

Amplified Study Bible, Hardcover
Retail: $44.99
Our Price: $27.49
Save: $17.50 (39%)

Amplified Outreach Bible, Paperback
Retail: $6.99
Our Price: $3.99
Save: $3.00 (43%)

Amplified Bible, Battlefield Of The Mind Bible, Imitation Leather, Blue
Retail: $79.99
Our Price: $53.99
Save: $26.00 (33%)
Everyday Life Bible: The Power of God's Word for Everyday Living--soft leather-look, blush
Retail: $79.99
Our Price: $54.99
Save: $25.00 (31%)

Everyday Life Bible: The Power Of God's Word For Everyday Living, Imitation Leather, pink
Retail: $79.99
Our Price: $53.99
Save: $26.00 (33%)