---
Amplified Bible, Classic Edition
14 Joab went through all the tribes of Israel to Abel of Beth-maacah, and all the Berites assembled and also went after [Sheba] ardently.
15 And they came and besieged Sheba in Abel of Beth-maacah, and they cast up a siege mound against the city, and it stood against the rampart; and all the men with Joab battered and undermined the wall to make it fall.
16 Then a wise woman of the city cried, Hear, hear! Say to Joab, Come here so I can speak to you.
Read full chapter
Amplified Bible, Classic Edition (AMPC)
Copyright © 1954, 1958, 1962, 1964, 1965, 1987 by The Lockman Foundation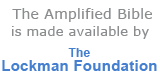 Bible Gateway Recommends
Amplified Bible, Large Print leather-look, brown/dark brown- index
Retail: $79.99
Our Price: $52.99
Save: $27.00 (34%)
La Biblia De La Vida Diaria, NVI: El poder de la Palabra de Dios para el diario vivir Everyday Life Bib,
Retail: $39.99
Our Price: $27.99
Save: $12.00 (30%)
Amplified Study Bible, Large Print, Imitation Leather, Brown
Retail: $69.99
Our Price: $43.49
Save: $26.50 (38%)

Amplified Thinline Holy Bible--bonded leather, black (indexed)
Retail: $59.99
Our Price: $38.99
Save: $21.00 (35%)

Amplified Thinline Holy Bible--bonded leather, burgundy
Retail: $49.99
Our Price: $31.99
Save: $18.00 (36%)

Battlefield of the Mind New Testament--soft leather-look, coral
Retail: $24.99
Our Price: $16.99
Save: $8.00 (32%)