---
13 suffering wrong [destined for punishment] as the wages of doing wrong. They count it a delight to revel in the daytime [living luxuriously]. They are stains and blemishes [on mankind], reveling in their [a]deceptions even as they feast with you. 14 They have eyes full of adultery, constantly looking for sin, enticing and luring away unstable souls. Having hearts trained in greed, [they are] children of a curse. 15 Abandoning the straight road [that is, the right way to live], they have gone astray; they have followed the way of [the false teacher] Balaam the son of Beor, who loved the reward of wickedness;(A)
Read full chapter
New International Version
13 They will be paid back with harm for the harm they have done. Their idea of pleasure is to carouse in broad daylight.(A) They are blots and blemishes, reveling in their pleasures while they feast with you.[a](B) 14 With eyes full of adultery, they never stop sinning; they seduce(C) the unstable;(D) they are experts in greed(E)—an accursed brood!(F) 15 They have left the straight way and wandered off to follow the way of Balaam(G) son of Bezer,[b] who loved the wages of wickedness.
Read full chapter
Amplified Bible (AMP)
Copyright © 2015 by The Lockman Foundation, La Habra, CA 90631. All rights reserved.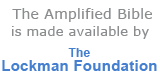 New International Version (NIV)
Holy Bible, New International Version®, NIV® Copyright ©1973, 1978, 1984, 2011 by Biblica, Inc.® Used by permission. All rights reserved worldwide.
NIV Reverse Interlinear Bible: English to Hebrew and English to Greek. Copyright © 2019 by Zondervan.