---
25 1 Jerusalem is besieged of Nebuchadnezzar, and taken. 7 The sons of Zedekiah are slain before his eyes, and after are his own eyes put out. 11 Judah is brought to Babylon. 25 Gedaliah is slain. 27 Jehoiachin is exalted.
1 (A)And in the [a]ninth year of his reign, the [b]tenth month, and tenth day of the month Nebuchadnezzar king of Babylon came, he, and all his host against Jerusalem, and pitched against it, and they built [c]forts against it round about it.
2 So the city was besieged unto the eleventh year of King Zedekiah.
3 And the ninth day of the month the famine was [d]sore in the city, so that there was no bread for the people of the land.
Read full chapter
New International Version
25 So in the ninth(A) year of Zedekiah's reign, on the tenth day of the tenth month, Nebuchadnezzar(B) king of Babylon marched against Jerusalem with his whole army. He encamped outside the city and built siege works(C) all around it. 2 The city was kept under siege until the eleventh year of King Zedekiah.
3 By the ninth day of the fourth[a] month the famine(D) in the city had become so severe that there was no food for the people to eat.
Read full chapter
Footnotes
2 Kings 25:3 Probable reading of the original Hebrew text (see Jer. 52:6); Masoretic Text does not have fourth.
1599 Geneva Bible (GNV)
Geneva Bible, 1599 Edition. Published by Tolle Lege Press. All rights reserved. No part of this publication may be reproduced or transmitted in any form or by any means, electronic or mechanical, without written permission from the publisher, except in the case of brief quotations in articles, reviews, and broadcasts.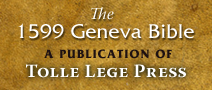 New International Version (NIV)
Holy Bible, New International Version®, NIV® Copyright ©1973, 1978, 1984, 2011 by Biblica, Inc.® Used by permission. All rights reserved worldwide.
NIV Reverse Interlinear Bible: English to Hebrew and English to Greek. Copyright © 2019 by Zondervan.