---
Amplified Bible, Classic Edition
9 And Sennacherib king of Assyria heard concerning Tirhakah king of Ethiopia, He has come to make war against you. And when he heard it, he sent messengers again to Hezekiah, saying,
10 Say this to Hezekiah king of Judah: Let not your God on Whom you rely deceive you by saying, Jerusalem shall not be delivered into the hand of the king of Assyria.
11 Behold, you have heard what the Assyrian kings have done to all lands, destroying them utterly. And shall you be delivered?
Read full chapter
Amplified Bible, Classic Edition (AMPC)
Copyright © 1954, 1958, 1962, 1964, 1965, 1987 by The Lockman Foundation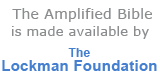 Bible Gateway Recommends
Classic Comparative Side-by-Side Bible (NIV, KJV, NASB, Amplified) , Bonded Leather
Retail: $89.99
Our Price: $57.99
Save: $32.00 (36%)

Battlefield of the Mind Bible: Renew Your Mind Through the Power of God's Word, Imitation Leather, brown
Retail: $79.99
Our Price: $53.99
Save: $26.00 (33%)

Amplified Holy Bible, softcover
Retail: $19.99
Our Price: $13.99
Save: $6.00 (30%)
Amplified Bible, Large Print leather-look, brown/dark brown- index
Retail: $79.99
Our Price: $52.99
Save: $27.00 (34%)

Everyday Life Bible: The Power of God's Word for Everyday Living--soft leather-look, blush
Retail: $79.99
Our Price: $54.99
Save: $25.00 (31%)
Amplified Compact Holy Bible--soft leather-look, camel/burgundy
Retail: $34.99
Our Price: $22.99
Save: $12.00 (34%)