---
Amplified Bible, Classic Edition
30 Hezekiah sent to all Israel [as well as] Judah and wrote letters also to Ephraim and Manasseh to come to the Lord's house at Jerusalem to keep the Passover to the Lord, the God of Israel.
2 For the king and his princes and all the assembly in Jerusalem took counsel to keep the Passover in the [a]second month.(A)
Read full chapter
Footnotes
2 Chronicles 30:2 Postponement from the first month is graciously permitted by God (see Num. 9:10-11).
Amplified Bible, Classic Edition (AMPC)
Copyright © 1954, 1958, 1962, 1964, 1965, 1987 by The Lockman Foundation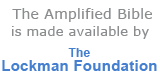 Bible Gateway Recommends
Everyday Life Bible: The Power Of God's Word For Everyday Living, Imitation Leather, pink
Retail: $79.99
Our Price: $53.99
Save: $26.00 (33%)

Amplified Thinline Holy Bible--bonded leather, black (indexed)
Retail: $59.99
Our Price: $36.99
Save: $23.00 (38%)

Everyday Life Bible: The Power Of God's Word For Everyday Living, Imitation Leather, pewter
Retail: $79.99
Our Price: $53.99
Save: $26.00 (33%)

Amplified Compact Holy Bible--soft leather-look, camel/burgundy
Retail: $34.99
Our Price: $22.99
Save: $12.00 (34%)

Amplified Bible, Large Print leather-look, brown/dark brown- index
Retail: $79.99
Our Price: $52.99
Save: $27.00 (34%)

Amplified Bible, Battlefield Of The Mind Bible, Imitation Leather, Blue
Retail: $79.99
Our Price: $53.99
Save: $26.00 (33%)