---
Contemporary English Version
Hezekiah Prepares To Celebrate Passover
30 1-4 Passover wasn't celebrated in the first month,[a] which was the usual time, because many of the priests were still unclean and unacceptable to serve, and because not everyone in Judah had come to Jerusalem for the festival. So Hezekiah, his officials, and the people agreed to celebrate Passover in the second month.[b]
Hezekiah sent a message to everyone in Israel and Judah, including those in the territories of Ephraim and West Manasseh, inviting them to the temple in Jerusalem for the celebration of Passover in honor of the Lord God of Israel.
Read full chapter
New International Version
Hezekiah Celebrates the Passover
30 Hezekiah sent word to all Israel(A) and Judah and also wrote letters to Ephraim and Manasseh,(B) inviting them to come to the temple of the Lord in Jerusalem and celebrate the Passover(C) to the Lord, the God of Israel. 2 The king and his officials and the whole assembly in Jerusalem decided to celebrate(D) the Passover in the second month.
Read full chapter
Contemporary English Version (CEV)
Copyright © 1995 by American Bible Society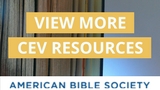 New International Version (NIV)
Holy Bible, New International Version®, NIV® Copyright ©1973, 1978, 1984, 2011 by Biblica, Inc.® Used by permission. All rights reserved worldwide.
NIV Reverse Interlinear Bible: English to Hebrew and English to Greek. Copyright © 2019 by Zondervan.