---
Amplified Bible, Classic Edition
2 He had brothers: Azariah, Jehiel, Zechariah, Azariah, Michael, and Shephatiah, all the sons of Jehoshaphat king of Israel.
3 Their father gave them great gifts of silver, gold, and precious things, together with fortified cities in Judah, but the kingdom he gave to Jehoram, the firstborn.
4 When Jehoram had ascended to the kingship of his father, he strengthened himself and slew all his brethren with the sword and also some of Israel's princes.
Read full chapter
Amplified Bible, Classic Edition (AMPC)
Copyright © 1954, 1958, 1962, 1964, 1965, 1987 by The Lockman Foundation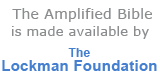 Bible Gateway Recommends
NKJV Amplified Parallel Large-Print Bible Flexisoft, Blue/Brown
Retail: $79.95
Our Price: $46.99
Save: $32.96 (41%)
Amplified Study Bible--soft leather-look, purple (indexed)
Retail: $79.99
Our Price: $47.99
Save: $32.00 (40%)
KJV and Amplified Parallel Bible, Large Print, Hardcover
Retail: $49.99
Our Price: $29.99
Save: $20.00 (40%)
La Biblia de la Vida Diaria (Everyday Life Bible), eBook
Our Price: $18.99
KJV and Amplified Parallel Bible, Large Print, Leathersoft, Camel/rich red
Retail: $79.99
Our Price: $47.99
Save: $32.00 (40%)
Amplified Topical Reference Bible, Bonded Leather, Black
Retail: $69.99
Our Price: $37.99
Save: $32.00 (46%)