---
Amplified Bible, Classic Edition
15 The Spirit of God came upon Azariah son of Oded.
2 And he went out to meet Asa and said to him, Hear me, Asa, and all Judah and Benjamin: the Lord is with you while you are with Him. If you seek Him [inquiring for and of Him, craving Him as your soul's first necessity], He will be found by you; but if you [become indifferent and] forsake Him, He will forsake you.
3 Now for a long time Israel was without the true God, without a teaching priest, and without law.
Read full chapter
Amplified Bible, Classic Edition (AMPC)
Copyright © 1954, 1958, 1962, 1964, 1965, 1987 by The Lockman Foundation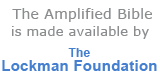 Bible Gateway Recommends
Amplified Compact Holy Bible--soft leather-look, camel/burgundy
Retail: $34.99
Our Price: $22.99
Save: $12.00 (34%)
Amplified & NKJV Parallel Bible Bonded Leather, Black, Large Print
Retail: $69.95
Our Price: $39.99
Save: $29.96 (43%)

Amplified Reading Bible, Imitation Leather, Brown
Retail: $49.99
Our Price: $31.99
Save: $18.00 (36%)
Classic Comparative Side-by-Side Bible (NIV, KJV, NASB, Amplified) , Bonded Leather
Retail: $89.99
Our Price: $57.99
Save: $32.00 (36%)

The Amplified Topical Reference Bible, Hardcover
Retail: $39.99
Our Price: $17.99
Save: $22.00 (55%)