---
Lessons from Israel's Idolatry
10 I don't want you to forget, dear brothers and sisters,[a] about our ancestors in the wilderness long ago. All of them were guided by a cloud that moved ahead of them, and all of them walked through the sea on dry ground. 2 In the cloud and in the sea, all of them were baptized as followers of Moses. 3 All of them ate the same spiritual food, 4 and all of them drank the same spiritual water. For they drank from the spiritual rock that traveled with them, and that rock was Christ. 5 Yet God was not pleased with most of them, and their bodies were scattered in the wilderness.
6 These things happened as a warning to us, so that we would not crave evil things as they did, 7 or worship idols as some of them did. As the Scriptures say, "The people celebrated with feasting and drinking, and they indulged in pagan revelry."[b] 8 And we must not engage in sexual immorality as some of them did, causing 23,000 of them to die in one day.
9 Nor should we put Christ[c] to the test, as some of them did and then died from snakebites. 10 And don't grumble as some of them did, and then were destroyed by the angel of death. 11 These things happened to them as examples for us. They were written down to warn us who live at the end of the age.
Read full chapter
New Living Translation (NLT)
Holy Bible, New Living Translation, copyright © 1996, 2004, 2015 by Tyndale House Foundation. Used by permission of Tyndale House Publishers, Inc., Carol Stream, Illinois 60188. All rights reserved.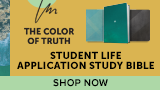 Bible Gateway Recommends
NLT Compact Giant Print Bible, Filament Enabled Edition (Red Letter, LeatherLike, Peony Rich Teal)
Retail: $34.99
Our Price: $27.99
Save: $7.00 (20%)
NLT Life Recovery Bible, Personal Size
Retail: $22.99
Our Price: $16.99
Save: $6.00 (26%)
NLT Life Application Large-Print Study Bible, Third Edition--soft leather-look, brown, mahogan, red letter (indexed)
Retail: $94.99
Our Price: $69.99
Save: $25.00 (26%)
NLT Premium Gift Bible Imitation Leather, purple petals
Retail: $15.99
Our Price: $11.99
Save: $4.00 (25%)

NLT Outreach Bible, Large Print Edition
Retail: $7.99
Our Price: $4.49
Save: $3.50 (44%)
NLT Premium Value Thinline Bible, Filament Enabled Edition--soft leather-look, teal
Retail: $17.99
Our Price: $14.49
Save: $3.50 (19%)