---
13 Seeing her lips moving but hearing no sound, he thought she had been drinking.
Read full chapter
13 But others in the crowd ridiculed them, saying, "They're just drunk, that's all!"
Read full chapter
42 "So today when I came to the spring, I prayed this prayer: 'O Lord, God of my master, Abraham, please give me success on this mission. 43 See, I am standing here beside this spring. This is my request. When a young woman comes to draw water, I will say to her, "Please give me a little drink of water from your jug." 44 If she says, "Yes, have a drink, and I will draw water for your camels, too," let her be the one you have selected to be the wife of my master's son.'
45 "Before I had finished praying in my heart, I saw Rebekah coming out with her water jug on her shoulder. She went down to the spring and drew water. So I said to her, 'Please give me a drink.'
Read full chapter
26 And the Holy Spirit helps us in our weakness. For example, we don't know what God wants us to pray for. But the Holy Spirit prays for us with groanings that cannot be expressed in words.
Read full chapter
7 Love never gives up, never loses faith, is always hopeful, and endures through every circumstance.
Read full chapter
15 The Lord of Heaven's Armies will protect his people,
and they will defeat their enemies by hurling great stones.
They will shout in battle as though drunk with wine.
They will be filled with blood like a bowl,
drenched with blood like the corners of the altar.
Read full chapter
Psalm 25[a]
A psalm of David.
1 O Lord, I give my life to you.
Read full chapter
Footnotes
25 This psalm is a Hebrew acrostic poem; each verse begins with a successive letter of the Hebrew alphabet.
4 The king asked, "Well, how can I help you?"
With a prayer to the God of heaven,
Read full chapter
New Living Translation (NLT)
Holy Bible, New Living Translation, copyright © 1996, 2004, 2015 by Tyndale House Foundation. Used by permission of Tyndale House Publishers, Inc., Carol Stream, Illinois 60188. All rights reserved.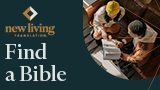 Bible Gateway Recommends
NLT Premium Value Slimline Bible Large Print, Imitiation Leather, Onyx with Crown of Thorns Design
Retail: $19.99
Our Price: $13.49
Save: $6.50 (33%)
The Daily Walk Bible, NLT Softcover
Retail: $19.99
Our Price: $15.99
Save: $4.00 (20%)
NLT Giant-Print Personal-Size Bible, Filament Enabled Edition--soft leather-look, rustic brown
Retail: $29.99
Our Price: $21.99
Save: $8.00 (27%)
NLT New Spirit Filled Life Bible, Imitation Leather, Rich Stone
Retail: $79.99
Our Price: $52.99
Save: $27.00 (34%)
My First Hands-on Bible--soft leather-look, bold blue
Retail: $19.99
Our Price: $15.99
Save: $4.00 (20%)
NLT Life Application Large-Print Study Bible, Third Edition--soft leather-look, teal
Retail: $84.99
Our Price: $59.99
Save: $25.00 (29%)