---
Amplified Bible, Classic Edition
13 Though I formerly blasphemed and persecuted and was shamefully and outrageously and aggressively insulting [to Him], nevertheless, I obtained mercy because I had acted out of ignorance in unbelief.
14 And the grace (unmerited favor and blessing) of our Lord [actually] flowed out superabundantly and beyond measure for me, accompanied by faith and love that are [to be realized] in Christ Jesus.
15 The saying is sure and true and worthy of full and universal acceptance, that Christ Jesus (the Messiah) came into the world to save sinners, of whom I am foremost.
Read full chapter
Amplified Bible, Classic Edition (AMPC)
Copyright © 1954, 1958, 1962, 1964, 1965, 1987 by The Lockman Foundation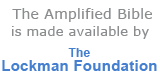 Bible Gateway Recommends
Everyday Life Bible: The Power of God's Word for Everyday Living--soft leather-look, blush
Retail: $79.99
Our Price: $54.99
Save: $25.00 (31%)
Battlefield of the Mind Bible: Renew Your Mind Through the Power of God's Word, Imitation Leather, pink
Retail: $79.99
Our Price: $53.99
Save: $26.00 (33%)

KJV and Amplified Parallel Bible, Large Print, Bonded Leather, Black
Retail: $79.99
Our Price: $53.99
Save: $26.00 (33%)

Classic Comparative Side-by-Side Bible (NIV, KJV, NASB, Amplified)
Retail: $54.99
Our Price: $35.99
Save: $19.00 (35%)

Amplified Large-Print Bible--bonded leather, burgundy - Imperfectly Imprinted Bibles
Retail: $69.99
Our Price: $33.59
Save: $36.40 (52%)
Amplified Large-Print Bible--bonded leather, burgundy
Retail: $69.99
Our Price: $45.99
Save: $24.00 (34%)