---
Contemporary English Version
8 And because of you, the Lord's message has spread everywhere in those regions. Now the news of your faith in God is known all over the world, and we don't have to say a thing about it. 9 Everyone is talking about how you welcomed us and how you turned away from idols to serve the true and living God. 10 They also tell how you are waiting for his Son Jesus to come from heaven. God raised him from death, and on the day of judgment Jesus will save us from God's anger.
Read full chapter
New International Version
8 The Lord's message(A) rang out from you not only in Macedonia and Achaia—your faith in God has become known everywhere.(B) Therefore we do not need to say anything about it, 9 for they themselves report what kind of reception you gave us. They tell how you turned(C) to God from idols(D) to serve the living and true God,(E) 10 and to wait for his Son from heaven,(F) whom he raised from the dead(G)—Jesus, who rescues us from the coming wrath.(H)
Read full chapter
Contemporary English Version (CEV)
Copyright © 1995 by American Bible Society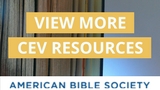 New International Version (NIV)
Holy Bible, New International Version®, NIV® Copyright ©1973, 1978, 1984, 2011 by Biblica, Inc.® Used by permission. All rights reserved worldwide.
NIV Reverse Interlinear Bible: English to Hebrew and English to Greek. Copyright © 2019 by Zondervan.