---
Contemporary English Version
17 I've already told you: The Lord has sworn to take the kingdom from you and give it to David. And that's just what he's doing! 18 When the Lord was angry with the Amalekites, he told you to destroy them, but you didn't do it. That's why the Lord is doing this to you. 19 Tomorrow the Lord will let the Philistines defeat Israel's army, then you and your sons will join me down here in the world of the dead.
Read full chapter
New International Version
17 The Lord has done what he predicted through me. The Lord has torn(A) the kingdom out of your hands and given it to one of your neighbors—to David. 18 Because you did not obey(B) the Lord or carry out his fierce wrath(C) against the Amalekites,(D) the Lord has done this to you today. 19 The Lord will deliver both Israel and you into the hands of the Philistines, and tomorrow you and your sons(E) will be with me. The Lord will also give the army of Israel into the hands of the Philistines."
Read full chapter
Contemporary English Version (CEV)
Copyright © 1995 by American Bible Society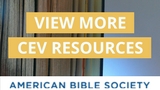 New International Version (NIV)
Holy Bible, New International Version®, NIV® Copyright ©1973, 1978, 1984, 2011 by Biblica, Inc.® Used by permission. All rights reserved worldwide.
NIV Reverse Interlinear Bible: English to Hebrew and English to Greek. Copyright © 2019 by Zondervan.