---
3 Now therefore if thou hast ought under thine hand, give me five cakes of bread, or what cometh to hand.
4 And the Priest answered David, and said, There is no common bread under mine hand, but here is (A)hallowed bread, if the young men have kept themselves, at least from [a]women.
5 David then answered the Priest, and said unto him, Certainly women have been separate from us these two or three days since I came out: and the [b]vessels of the young men were holy, though the way were profane, and how much more then shall every one [c]be sanctified this day in the vessel?
Read full chapter
Footnotes
1 Samuel 21:4 If they have not accompanied with their wives.
1 Samuel 21:5 That is, their bodies.
1 Samuel 21:5 Shall be more careful to keep his vessel holy, when he shall have eaten of this holy food?
New International Version
3 Now then, what do you have on hand? Give me five loaves of bread, or whatever you can find."
4 But the priest answered David, "I don't have any ordinary bread(A) on hand; however, there is some consecrated(B) bread here—provided the men have kept(C) themselves from women."
5 David replied, "Indeed women have been kept from us, as usual(D) whenever[a] I set out. The men's bodies are holy(E) even on missions that are not holy. How much more so today!"
Read full chapter
1599 Geneva Bible (GNV)
Geneva Bible, 1599 Edition. Published by Tolle Lege Press. All rights reserved. No part of this publication may be reproduced or transmitted in any form or by any means, electronic or mechanical, without written permission from the publisher, except in the case of brief quotations in articles, reviews, and broadcasts.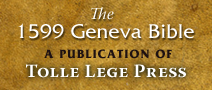 New International Version (NIV)
Holy Bible, New International Version®, NIV® Copyright ©1973, 1978, 1984, 2011 by Biblica, Inc.® Used by permission. All rights reserved worldwide.
NIV Reverse Interlinear Bible: English to Hebrew and English to Greek. Copyright © 2019 by Zondervan.