---
19 2 Jonathan declareth to David the wicked purpose of Saul. 11 Michal his wife saveth him. 18 David cometh to Samuel. 23 The Spirit of prophecy cometh on Saul.
1 Then Saul spake to Jonathan his son, and to all his servants, that they should [a]kill David: but Jonathan Saul's son had a great favor to David.
2 And Jonathan told David, saying, Saul my father goeth about to slay thee: now therefore, I pray thee, take heed unto thyself unto the morning, and abide in a secret place, and hide thyself.
3 And I will go out and stand by my father in the field where thou [b]art, and will commune with my father of thee, and I will see what he saith, and will tell thee.
Read full chapter
Footnotes
1 Samuel 19:1 Before Saul sought David's life secretly, but now his hypocrisy bursteth to open cruelty.
1 Samuel 19:3 That I may give thee warning what to do.
New International Version
Saul Tries to Kill David
19 Saul told his son Jonathan(A) and all the attendants to kill(B) David. But Jonathan had taken a great liking to David 2 and warned him, "My father Saul is looking for a chance to kill you. Be on your guard tomorrow morning; go into hiding(C) and stay there. 3 I will go out and stand with my father in the field where you are. I'll speak(D) to him about you and will tell you what I find out."
Read full chapter
1599 Geneva Bible (GNV)
Geneva Bible, 1599 Edition. Published by Tolle Lege Press. All rights reserved. No part of this publication may be reproduced or transmitted in any form or by any means, electronic or mechanical, without written permission from the publisher, except in the case of brief quotations in articles, reviews, and broadcasts.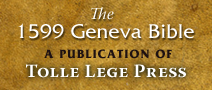 New International Version (NIV)
Holy Bible, New International Version®, NIV® Copyright ©1973, 1978, 1984, 2011 by Biblica, Inc.® Used by permission. All rights reserved worldwide.
NIV Reverse Interlinear Bible: English to Hebrew and English to Greek. Copyright © 2019 by Zondervan.