---
Amplified Bible, Classic Edition
24 And all the men of Israel, when they saw the man, fled from him, terrified.
25 And the Israelites said, Have you seen this man who has come out? Surely he has come out to defy Israel; and the man who kills him the king will enrich with great riches, and will give him his daughter and make his father's house free [from taxes and service] in Israel.
26 And David said to the men standing by him, What shall be done for the man who kills this Philistine and takes away the reproach from Israel? For who is this uncircumcised Philistine that he should defy the armies of the living God?
Read full chapter
Amplified Bible, Classic Edition (AMPC)
Copyright © 1954, 1958, 1962, 1964, 1965, 1987 by The Lockman Foundation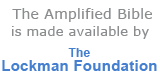 Bible Gateway Recommends
Large Print leather-look, brown/dark brown--indexed
Retail: $79.99
Our Price: $43.49
Save: $36.50 (46%)
Amplified Compact Holy Bible, hardcover
Retail: $14.99
Our Price: $9.49
Save: $5.50 (37%)
Amplified Bible, Battlefield Of The Mind Bible, Hardcover - Slightly Imperfect
Retail: $49.99
Our Price: $22.39
Save: $27.60 (55%)
Everyday Life Bible: The Power of God's Word for Everyday Living--soft leather-look, teal
Retail: $79.99
Our Price: $54.99
Save: $25.00 (31%)

Amplified Bible, Battlefield Of The Mind Bible, Imitation Leather, Blue
Retail: $79.99
Our Price: $45.99
Save: $34.00 (43%)
KJV and Amplified Parallel Bible, Large Print, Leathersoft, Camel/rich red
Retail: $79.99
Our Price: $49.99
Save: $30.00 (38%)