---
Amplified Bible, Classic Edition
38 Then Saul said, Draw near, all the chiefs of the people, and let us see how this sin [causing God's silence] arose today.
39 For as the Lord lives, Who delivers Israel, though it be in Jonathan my son, he shall surely die. But not a man among all the people answered him.
40 Then he said to all Israel, You be on one side; and I and Jonathan my son will be on the other side. The people said to Saul, Do what seems good to you.
Read full chapter
Amplified Bible, Classic Edition (AMPC)
Copyright © 1954, 1958, 1962, 1964, 1965, 1987 by The Lockman Foundation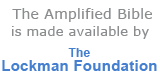 Bible Gateway Recommends
The Amplified Topical Reference Bible, Hardcover
Retail: $39.99
Our Price: $17.99
Save: $22.00 (55%)
Amplified Holy Bible, softcover
Retail: $19.99
Our Price: $13.99
Save: $6.00 (30%)

Amplified Study Bible, Large Print, Imitation Leather, Brown
Retail: $69.99
Our Price: $43.49
Save: $26.50 (38%)

Classic Comparative Side-by-Side Bible (NIV, KJV, NASB, Amplified) , Bonded Leather
Retail: $89.99
Our Price: $57.99
Save: $32.00 (36%)
Amplified Holy Bible--bonded leather, burgundy (indexed)
Retail: $59.99
Our Price: $38.99
Save: $21.00 (35%)