---
38 Then Saul said, "Come here, all you who are leaders of the people, and let us find out how this sin [causing God's silence] happened today. 39 For as the Lord lives, who saves Israel, for even if the guilt is in my son Jonathan, he shall most certainly die." But not one of all the people answered him. 40 Then he said to all the Israelites, "[a]You shall be on one side; I and my son Jonathan will be on the other side." The people said to Saul, "Do what seems good to you."
Read full chapter
Footnotes
1 Samuel 14:40 To identify the guilty party, Saul decided to have lots cast, which was a common and accepted means of finding God's will. It may be that the Urim and Thummim that were kept in the priest's breastpiece were used for this purpose (Ex 28:30). Saul chose to narrow the search by first separating Jonathan and himself from the rest of the people, only to discover (v 41) that the people were in fact innocent.
New International Version
38 Saul therefore said, "Come here, all you who are leaders of the army, and let us find out what sin has been committed(A) today. 39 As surely as the Lord who rescues Israel lives,(B) even if the guilt lies with my son Jonathan,(C) he must die."(D) But not one of them said a word.
40 Saul then said to all the Israelites, "You stand over there; I and Jonathan my son will stand over here."
"Do what seems best to you," they replied.
Read full chapter
Amplified Bible (AMP)
Copyright © 2015 by The Lockman Foundation, La Habra, CA 90631. All rights reserved.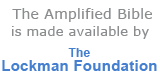 New International Version (NIV)
Holy Bible, New International Version®, NIV® Copyright ©1973, 1978, 1984, 2011 by Biblica, Inc.® Used by permission. All rights reserved worldwide.
NIV Reverse Interlinear Bible: English to Hebrew and English to Greek. Copyright © 2019 by Zondervan.