---
Amplified Bible, Classic Edition
22 And Judah did evil in the sight of the Lord, Whom they provoked to jealousy with the sins they committed, above all that their fathers had done.
23 For they also built themselves [idolatrous] high places, pillars, and Asherim [idolatrous symbols of the goddess Asherah] on every high hill and under every green tree.
24 There were also sodomites (male cult prostitutes) in the land. They did all the abominations of the nations whom the Lord cast out before the Israelites.
Read full chapter
Amplified Bible, Classic Edition (AMPC)
Copyright © 1954, 1958, 1962, 1964, 1965, 1987 by The Lockman Foundation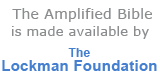 Bible Gateway Recommends
Amplified Compact Holy Bible, hardcover
Retail: $14.99
Our Price: $9.99
Save: $5.00 (33%)

KJV and Amplified Parallel Bible, Large Print, Leathersoft, Camel/rich red
Retail: $79.99
Our Price: $52.99
Save: $27.00 (34%)

Amplified Reading Bible, Imitation Leather, Brown
Retail: $49.99
Our Price: $31.99
Save: $18.00 (36%)
Everyday Life Bible: The Power of God's Word for Everyday Living--soft leather-look, blush
Retail: $79.99
Our Price: $54.99
Save: $25.00 (31%)
Amplified Large-Print Bible, hardcover
Retail: $34.99
Our Price: $22.49
Save: $12.50 (36%)
Classic Comparative Side-by-Side Bible (NIV, KJV, NASB, Amplified)
Retail: $54.99
Our Price: $35.99
Save: $19.00 (35%)