---
30 And this thing turned to sin: for the people went (because of the one) even to Dan.
31 Also he made an [a]house of high places, and made priests of the lowest of the people, which were not of the sons of Levi.
32 And Jeroboam made a feast the [b]fifteenth day of the eighth month, like unto the feast that is in Judah, and offered on the altar. So did he in Bethel and offered unto the calves that he had made: and he placed in Bethel the Priests of the high places, which he had made.
Read full chapter
Footnotes
1 Kings 12:31 That is, a temple, where altars were built for idolatry.
1 Kings 12:32 Because he would the more bind the people's devotion to his idolatry, he made a new holy day, besides those that the Lord had appointed in the Law.
New International Version
30 And this thing became a sin;(A) the people came to worship the one at Bethel and went as far as Dan to worship the other.[a]
31 Jeroboam built shrines(B) on high places and appointed priests(C) from all sorts of people, even though they were not Levites. 32 He instituted a festival on the fifteenth day of the eighth(D) month, like the festival held in Judah, and offered sacrifices on the altar. This he did in Bethel,(E) sacrificing to the calves he had made. And at Bethel he also installed priests at the high places he had made.
Read full chapter
Footnotes
1 Kings 12:30 Probable reading of the original Hebrew text; Masoretic Text people went to the one as far as Dan
1599 Geneva Bible (GNV)
Geneva Bible, 1599 Edition. Published by Tolle Lege Press. All rights reserved. No part of this publication may be reproduced or transmitted in any form or by any means, electronic or mechanical, without written permission from the publisher, except in the case of brief quotations in articles, reviews, and broadcasts.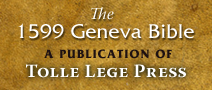 New International Version (NIV)
Holy Bible, New International Version®, NIV® Copyright ©1973, 1978, 1984, 2011 by Biblica, Inc.® Used by permission. All rights reserved worldwide.
NIV Reverse Interlinear Bible: English to Hebrew and English to Greek. Copyright © 2019 by Zondervan.