---
Disciples' Literal New Testament
11 But now[a], I wrote[b] to you not to associate-with them if anyone being named a brother should be a sexually-immoral one, or a greedy one, or an idolater, or a reviler, or a drunkard, or a swindler— not even to eat with such a one. 12 For what do I have to do with judging the ones outside? Are you not judging the ones inside? 13 But God judges[c] the ones outside. Remove[d] the evil one from-among you yourselves.
Read full chapter
New International Version
11 But now I am writing to you that you must not associate with anyone who claims to be a brother or sister[a](A) but is sexually immoral or greedy, an idolater(B) or slanderer, a drunkard or swindler. Do not even eat with such people.(C)
12 What business is it of mine to judge those outside(D) the church? Are you not to judge those inside?(E) 13 God will judge those outside. "Expel the wicked person from among you."[b](F)
Read full chapter
Footnotes
1 Corinthians 5:11 The Greek word for brother or sister (adelphos) refers here to a believer, whether man or woman, as part of God's family; also in 8:11, 13.
1 Corinthians 5:13 Deut. 13:5; 17:7; 19:19; 21:21; 22:21,24; 24:7
Disciples' Literal New Testament (DLNT)
Disciples' Literal New Testament: Serving Modern Disciples by More Fully Reflecting the Writing Style of the Ancient Disciples, Copyright © 2011 Michael J. Magill. All Rights Reserved. Published by Reyma Publishing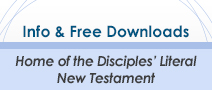 New International Version (NIV)
Holy Bible, New International Version®, NIV® Copyright ©1973, 1978, 1984, 2011 by Biblica, Inc.® Used by permission. All rights reserved worldwide.
NIV Reverse Interlinear Bible: English to Hebrew and English to Greek. Copyright © 2019 by Zondervan.