---
Mounce Reverse-Interlinear New Testament
4 For gar I am synoida not aware of synoida anything oudeis against myself emautou, yet alla not ou because en of this houtos am I acquitted dikaioō. It is eimi the ho · de Lord kyrios who judges anakrinō me egō. 5 So then hōste, stop mē passing judgment on krinō anything tis before pro the time kairos, before heōs an the ho Lord kyrios comes erchomai. He hos · kai will bring to light phōtizō the ho hidden kryptos things of ho darkness skotos and kai will disclose phaneroō the ho motives boulē of the ho heart kardia. · kai At that time tote · ho praise epainos will come ginomai to each hekastos from apo · ho God theos.
6 I have applied metaschēmatizō all this houtos · de to eis myself emautou and kai Apollos Apollōs for dia your hymeis benefit dia, brothers adelphos, that hina you may learn manthanō by en us hēmeis · ho not mē to go beyond hyper what hos is written graphō, that hina none mē heis of you may be puffed up physioō in favor hyper of · ho one heis against kata · ho another heteros.
Read full chapter
New International Version
4 My conscience(A) is clear, but that does not make me innocent.(B) It is the Lord who judges me.(C) 5 Therefore judge nothing(D) before the appointed time; wait until the Lord comes.(E) He will bring to light(F) what is hidden in darkness and will expose the motives of the heart. At that time each will receive their praise from God.(G)
6 Now, brothers and sisters, I have applied these things to myself and Apollos for your benefit, so that you may learn from us the meaning of the saying, "Do not go beyond what is written."(H) Then you will not be puffed up in being a follower of one of us over against the other.(I)
Read full chapter
Mounce Reverse-Interlinear New Testament (MOUNCE)
The Mounce Reverse-Interlinear™ New Testament (MOUNCE) Copyright © 2011 by William D. Mounce. Used by permission. All rights reserved worldwide.
"Reverse-Interlinear" is a trademark of William D. Mounce.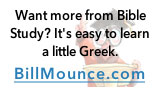 New International Version (NIV)
Holy Bible, New International Version®, NIV® Copyright ©1973, 1978, 1984, 2011 by Biblica, Inc.® Used by permission. All rights reserved worldwide.
NIV Reverse Interlinear Bible: English to Hebrew and English to Greek. Copyright © 2019 by Zondervan.