---
Amplified Bible, Classic Edition
15 Now, brethren, you know that the household of Stephanas were the first converts and our firstfruits in Achaia (most of Greece), and how they have consecrated and devoted themselves to the service of the saints (God's people).
16 I urge you to pay all deference to such leaders and to enlist under them and be subject to them, as well as to everyone who joins and cooperates [with you] and labors earnestly.
17 I am happy because Stephanas and Fortunatus and Achaicus have come [to me], for they have made up for your absence.
Read full chapter
Amplified Bible, Classic Edition (AMPC)
Copyright © 1954, 1958, 1962, 1964, 1965, 1987 by The Lockman Foundation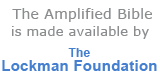 Bible Gateway Recommends
Classic Comparative Side-by-Side Bible (NIV, KJV, NASB, Amplified) , Bonded Leather
Retail: $89.99
Our Price: $57.99
Save: $32.00 (36%)
Amplified Holy Bible, hardcover
Retail: $29.99
Our Price: $19.99
Save: $10.00 (33%)

Amplified Study Bible, Hardcover
Retail: $44.99
Our Price: $27.49
Save: $17.50 (39%)

New Everyday Life Bible: The Power Of God's Word For Everyday Living - Slightly Imperfect
Retail: $29.99
Our Price: $16.99
Save: $13.00 (43%)
Amplified Study Bible, Large Print, Imitation Leather, Brown
Retail: $69.99
Our Price: $43.49
Save: $26.50 (38%)

KJV and Amplified Parallel Bible, Large Print, Bonded Leather, Black
Retail: $79.99
Our Price: $47.99
Save: $32.00 (40%)