---
Contemporary English Version
4 By speaking languages that others don't know, you help only yourself. But by prophesying you help everyone in the church. 5 I am glad for you to speak unknown languages, although I had rather for you to prophesy. In fact, prophesying does much more good than speaking unknown languages, unless someone can help the church by explaining what you mean.
6 My friends, what good would it do, if I came and spoke unknown languages to you and didn't explain what I meant? How would I help you, unless I told you what God had shown me or gave you some knowledge or prophecy or teaching?
Read full chapter
New International Version
4 Anyone who speaks in a tongue(A) edifies(B) themselves, but the one who prophesies(C) edifies the church. 5 I would like every one of you to speak in tongues,[a] but I would rather have you prophesy.(D) The one who prophesies is greater than the one who speaks in tongues,[b] unless someone interprets, so that the church may be edified.(E)
6 Now, brothers and sisters, if I come to you and speak in tongues, what good will I be to you, unless I bring you some revelation(F) or knowledge(G) or prophecy or word of instruction?(H)
Read full chapter
Contemporary English Version (CEV)
Copyright © 1995 by American Bible Society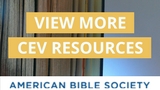 New International Version (NIV)
Holy Bible, New International Version®, NIV® Copyright ©1973, 1978, 1984, 2011 by Biblica, Inc.® Used by permission. All rights reserved worldwide.
NIV Reverse Interlinear Bible: English to Hebrew and English to Greek. Copyright © 2019 by Zondervan.