---
Amplified Bible, Classic Edition
14 The lot for the east fell to Shelemiah. They cast lots also for Zechariah his son, a wise counselor, and his lot came out for the north.
15 To Obed-edom it came out for the south, and to his sons the storehouse was allotted.
16 To Shuppim and Hosah the lot fell for the west, by the refuse gate that goes into the ascending highway, post opposite post.
Read full chapter
Amplified Bible, Classic Edition (AMPC)
Copyright © 1954, 1958, 1962, 1964, 1965, 1987 by The Lockman Foundation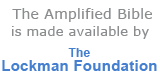 Bible Gateway Recommends
Amplified Holy Bible, softcover
Retail: $19.99
Our Price: $13.99
Save: $6.00 (30%)

NKJV Amplified Parallel Large-Print Bible Flexisoft, Blue/Brown
Retail: $79.95
Our Price: $46.99
Save: $32.96 (41%)
Amplified Topical Reference Bible, Bonded Leather, Black
Retail: $69.99
Our Price: $37.99
Save: $32.00 (46%)
Amplified Thinline Holy Bible--bonded leather, black (indexed)
Retail: $59.99
Our Price: $38.99
Save: $21.00 (35%)

Classic Comparative Side-by-Side Bible (NIV, KJV, NASB, Amplified) , Bonded Leather
Retail: $89.99
Our Price: $57.99
Save: $32.00 (36%)
Amplified & NKJV Parallel Bible Bonded Leather, Black, Large Print - Imperfectly Imprinted Bibles
Retail: $69.95
Our Price: $31.99
Save: $37.96 (54%)