---
12 Kohath had four sons: Amram, Izhar, Hebron, and Uzziel. 13 (A)His oldest son, Amram, was the father of Aaron and Moses. (Aaron and his descendants were set apart to be in charge of the sacred objects forever, to burn incense in the worship of the Lord, to serve him, and to bless the people in his name. 14 But the sons of Moses, the man of God, were included among the Levites.)
Read full chapter
New International Version
Kohathites
12 The sons of Kohath:(A)
Amram, Izhar, Hebron and Uzziel—four in all.
13 The sons of Amram:(B)
Aaron and Moses.
Aaron was set apart,(C) he and his descendants forever, to consecrate the most holy things, to offer sacrifices before the Lord, to minister(D) before him and to pronounce blessings(E) in his name forever. 14 The sons of Moses the man(F) of God were counted as part of the tribe of Levi.
Read full chapter
Good News Translation (GNT)
Copyright © 1992 by American Bible Society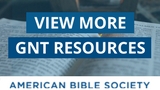 New International Version (NIV)
Holy Bible, New International Version®, NIV® Copyright ©1973, 1978, 1984, 2011 by Biblica, Inc.® Used by permission. All rights reserved worldwide.
NIV Reverse Interlinear Bible: English to Hebrew and English to Greek. Copyright © 2019 by Zondervan.